Movies filmed in Rhodes Island, Greece
The natural beauty of Rhodes alongside its magnificent Old Town and other historical monuments have always appealed to film makers. It is no surprise, therefore, that a large number of Greek and foreign film productions, including some of Hollywood's finest were shot in Rhodes.
We always like to watch films with our destination as a background. For all those planning to visit Rhodes, we highly recommend that they get to view some of these films and gain a taste of the unique beauty of the island. But even all those visitors who have come to Rhodes before and have adored the island, let these films be a chance for them to recall all the remarkable places they have been to. It's both exciting and fun to watch a film and be able to recognize the places it was shot in.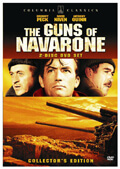 The Guns of Navarone (1961)
A British team is sent to cross occupied Greek territory and destroy the massive German gun emplacement that commands a key sea channel. The cliffs between Lindos & Pefkos, the Acropolis of Lindos, the Old Town , and Kalithea Beach featured in the film.
Featuring: Gregory Peck, David Niven, Anthony Queen, Irene Papa.
Director: J. Lee Thompson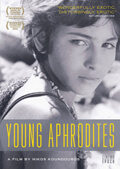 Mikres Afrodites (1963) / Young Aphrodites (1966) ( USA )
Parallel stories of Eros set in 200 B.C. Nomadic shepherds, plagued by drought, happen on a fishing encampment with plentiful fresh water...
Koritsia Gia Filima / Girls in Kisses (1965) (USA: TV title)
Greek comedy with English subtitles...the New Town, the Old Town and Kalithea beach featured in the film.
Escape to Athena (1979)
During the World War II, the prisoners of a German camp in a Greek island are trying to escape. They don't want only their freedom...The Old Town and Kalithea beach featured in the film.
Cast: Roger Moore, Telly Savalas, David Niven, Claudia Cardinale.
Director: George P.Cosmatos.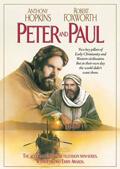 Peter and Paul (1981)
Peter and Paul assume leadership of the Church as they struggle against violent opposition to the teachings of Christ and their own personal conflicts...Filmed in the Old Town.
Cast: Anthony Hopkins, Robert Foxworth, Eddie Albert.
Director: Robert Day.
The Dark Side of the Sun (1983) (mini TV Series)
Supernatural thriller series dealing with a secret society on the Greek island of Rhodes.
Cast: Peter Egan, Patrick Mower.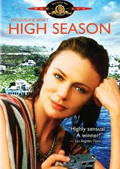 High Season (1987)
On the isle of Rhodes, Katherine, an expatriate English photographer, lives with her daughter. A young local wants to encourage tourism...
Cast: Kenneth Branagh, Jaqueline Bisset, James Fox and Irene Pappas. Filmed in Lindos.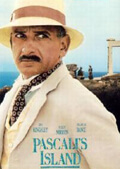 Pascali's Island (1988)
A thriller set on a Greek island under Turkish occupation during the fall of the Ottoman Empire. Filmed in the Old Town and on several beautiful beaches.
Cast. Ben Kingsley, Charles Dance, Kevork Malikyan.
Director: James Dearden.
The Documentaries (1995)
"L' Isola delle rose, la tragedia di un paradiso" (Italian production - The Island of Roses, the tragedy of a paradise) a movie about the Jews of Rhodes by Rebecca Samona,
...and "Rhodes nostalgie / Rhodes for Ever", Portrait of the Jews of Rhodes, whose ancestors found refuge there after their expulsion from Spain in the 15th century. For five centuries, Jews lived in Rhodes until their community was destroyed during World War II (Belgian production) by Dian Perlstein. A big part of the documentaries filmed in the Old Town.
Into the Blue (1997) (TV)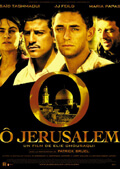 O Jerusalem (2006)
A tale of friendship between two men, one Jewish and the other Arab, as the state of Israel is being created... Filmed in the Old Town.
Cast. JJ Feild, Said Taghmaooui Maria Papas.
Director: Elie Chouraqu.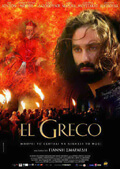 El Greco (2007)
A dramatization of the life of 16th century Greek painter, Domenicos Theotokopoulos, who, in search of freedom and love, sets off from Crete and goes to Venice and finally Toledo... Filmed in the Old Town.
Cast. Nick Ashdon, Juan Diego Botto, Laia Marull, Lakis Lazopoulos.
Director: Yannis Smaragdis
5 Dienu Avantiura (2008) / "5 Day Scam"
"5 Day Scam" is a situational comedy about a mix of nutty people that come together in an environment of peculiar provincial show business of a developing country, each of them craving for fame and riches.
Cast. Anzela Aleksandrovic, Ingrida Bertasiute, Polina Borisova.
Director: Gerry Pavloff
We just hope this list will get even longer within time and that more films and box-office hits will be shot on our extraordinary island of Rhodes.
Just sit back and enjoy them!
↑ BACK TO THE TOP ↑